Quality
Highest quality is our requirement
The high degree of our customers' satisfaction made the lasting success of our company possible. Therefore, on the occasion of our 25th company anniversary in 2001, we made ourselves a present: Our certification according to ISO 9001:2015 was another milestone on our way towards even better services and products of highest quality. You will benefit from this competitive edge.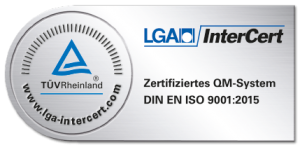 We set new standards
It is our company objective to surpass our customers' expectations and requests. So we permanently and consistently direct our efforts towards total customer satisfaction and continually try to increase our performance and effectivity. Thus, we are always in a position to offer you optimum cost-effectiveness.
Crucial factors of our quality policy
To realise our objectives, our Quality Management is committed to the following main points:
consistent customer-orientation
top-quality products in compliance with specifications
observance of all relevant laws and provisions
schedule effectiveness and high reliability
permanent further training of our employees.
back