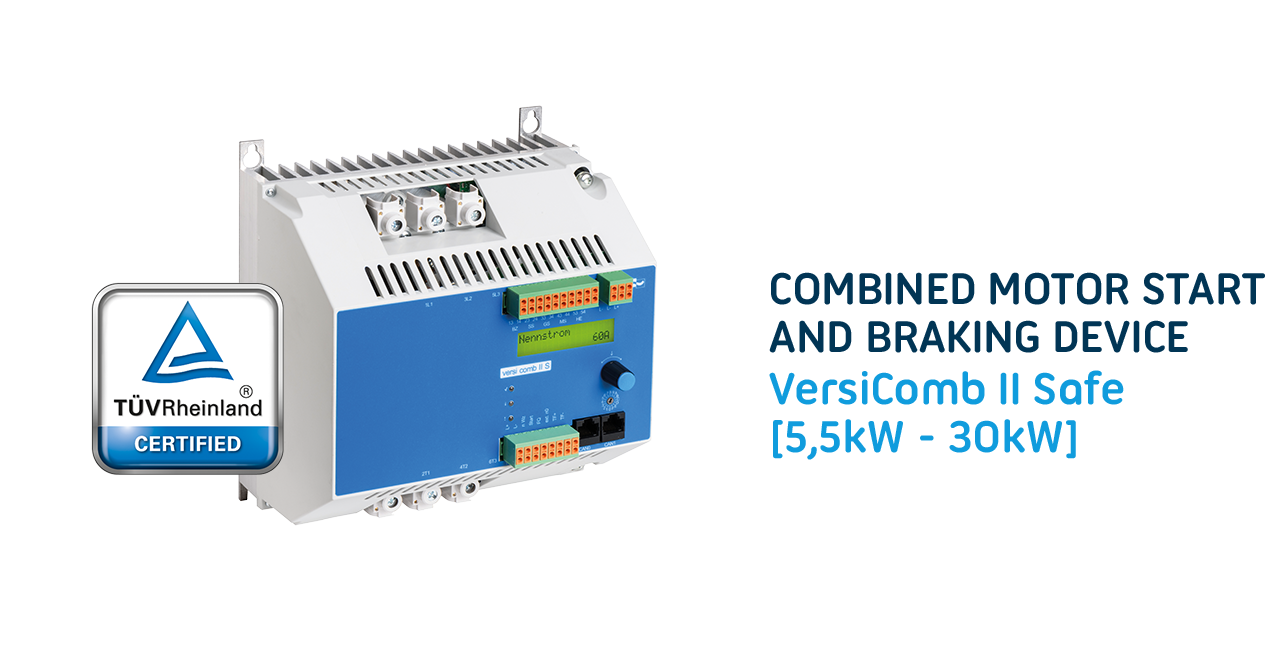 TÜV certification for VersiComb II Safe soft starter and braking device combination: Safety function requirements are 100% fulfilled
TÜV Rheinland has tested and certified the VersiComb II Safe equipment series: The safety functions of the high-performance soft start brake combination with thermal overload protection fulfil the highest safety function requirements in the machine industry to ISO 13849-1:2015. The prevention of an inadvertent and fault-related start-up, monitored and controlled shutdown, activation of the door lock and external standstill monitoring were tested.
The safety functions of the motor VersiComb II Safe motor start / brake system fulfil the requirements of the relevant standards (Cat. 2 / PL c to EN ISO 13849-1, SIL CL 1 to  EN 62061 / IEC 61508). VersiComb II Safe can be used in applications up to PL c and SIL 1. Application of other protective measures, e.g. guard doors in combination with the standstill output contacts (X1: 43, X1: 44) is imperative. Use of a motor contactor is recommended but not imperative.
Special requirements according to the installation and commissioning instructions must be complied with.
We confirm that the VersiComb II Safe complies with the requirements for machinery in accordance with Annex I of the EC Directive 2006/42/EC.
Soft starter and DC brake with TÜV certification
The VersiComb II Safe equipment series  is the successful two-in-one solution from Peter Electronic, which combines soft, power-saving starting with protective, reliable braking of three-phase asynchronous motors in efficiency classes IE1 to IE3. The core function of the compact unit is the combination of soft starter and DC brake, which not only ensures a soft switch-on moment to protect the components but also ensures safe coasting of the connected motors. The motors are monitored and exactly controlled continuously, not only during starting but also during the braking operation. The tried and tested motor start - brake combination also has thermal motor protection as well as equipment protection, which ensure increased safety and predestine VersiComb II Safe for additional applications.
The compact units are optionally available with up to 37A with adapters for standard rail fixing: This simplifies installation, especially if the equipment combination is to be attached directly in the control cabinet – especially for OEM manufacturers, this means more flexibility for upgrading your machines. With the requested standard rail fixing, he equipment can be easily pressed onto the rail in the control cabinet. This removes the need for time-consuming screw fixing on the mounting plate.
VersiComb II Safe has been designed for use in motors of woodworking machines / machining tools such as saws, milling machines, planes, brushing and grinding machines as well as other machines in industry and building services such as vibrators, fans, screens and centrifuges.
Overview of important features:
VersiComb II Safe is designed for asynchronous motors with nominal motor outputs from 5 to 30 kW or 12 to 60 A nominal equipment current. The soft starter and braking device combination is available in two housing sizes and 5 variants. The devices fulfil the EN 12750:2013 requirements (Safety of woodworking machines) and to this end are equipped with the following functions:
Prevention of inadvertent, fault-related start-up
Monitored, controlled shutdown
Door lock activation
External standstill monitoring
Start-up detection
These and other properties make VersiComb II Safe withTÜV certification a high-performance soft start brake combination.
Further details in our online shop:
Visit online shop