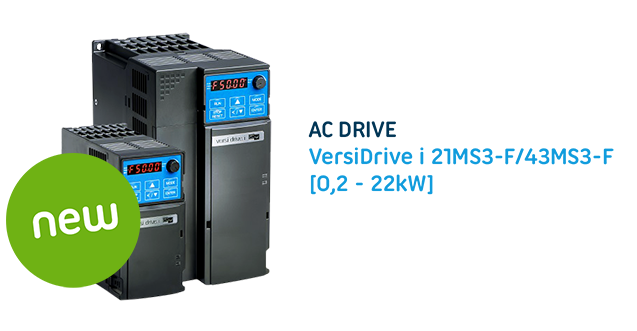 The MS3 Series – compact power for intelligent miniature drive solutions
With the compact and flexible MS3 ac drive series, Peter electronic sets a new benchmark in the field of micro drives. Available in six different versions with outputs from 0.2 up to 22 kW, the compact and flexible ac drives are equally suitable for precise control of asynchronous three-phase motors as well as permanent magnet motors. For utmost flexibility and compatibility, the ac drives come with numerous standard functions such as PLC functionality, slots for different communication modules, plus a USB port – all in a compact drive that is up to 40 % smaller than comparable products. Furthermore, in addition to the standard versions, high-speed models with output frequencies up to 599 Hz are also available – the perfect answer for complex and high-precision applications.
Highly versatile thanks to numerous on-board features
Whether in woodworking machines, where realtime control of acceleration and deceleration increases machine efficiency and the built-in EMC filter efficiently suppresses mains interference, or in pump applications, in which the integral PLC function and the internal PID control greatly reduce wiring outlay – there is practically no application, in which the use of these compact and flexible ac drives does not release valuable time resources and saves costs, because the need to purchase expensive external components is eliminated. Hereby, the high starting torque of 200 % in the low speed range ensures outstanding machine stability, even in applications subjected to high load variations.
While the IP40 versions are particularly suitable for use in environments that are heavily loaded with dust, fibers, or humidity, as found e.g. with textile machines, the compact units can be installed side by side in a minimum of space. Also in terms of safety, the compact and flexible ac drives stand up to any comparison. For example, the integral STO function reliably protects operating personnel, without having to connect additional circuit breakers. Conversely, the deceleration energy back function protects the drive from mechanical damage by controlling the motor deceleration to a standstill in case of a mains failure. And should the mains voltage return during the braking procedure, the motor accelerates from the slow-down frequency back to the target frequency.
Networkable and user friendly
The removable operating unit with its five-digit 7-segment display permits extremely simple operation of the ac drive. Thanks to the internal USB interface, parameters can be adjusted conveniently, and data monitored and updated. The clip-on front cover and easily replaceable fan greatly simplify maintenance. Moreover, special spring-clamp terminals permit fast and simple wiring without special tools. The internal EMC filter is activated simply be removing a jumper. Overall, these features considerably reduce the connecting and commissioning times. As a finishing touch, the all-round talent comes with numerous communication options that enable different networks such as PROFIBUS/DP or EtherCAT to be connected.
Space-saving housing, flexible adaptation to the most varied requirements, excellent efficiency, and a highly stable system: Wherever miniature drives must be controlled precisely and reliably, the MS3 Series compact and flexible ac drives are the ideal solution.
Overview of important features:
Highly compact and flexible ac drives with controlled V/f characteristic
Sensorless vector control
Field-oriented control
Safety switch-off according to IEC 61508 SIL2
Integral braking chopper
Protection mode IP00 or IP40, depending on version
Built-in EMC filter
Integral Modbus-RTU module
Potential-free control and signalling contacts
150 % overload for 60 s
Integral PID control
Integral USB interface
PLC functionality
Simple positioning function
Further details in our online shop:
Visit online shop